Facial Services
Complete Corrective Herbal Facial
75 minutes: $90
Add Microdermabrasion or Hydradermabrasion: $20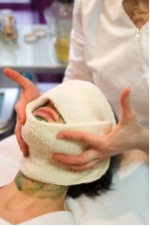 Each facial includes:
Cleansing

Steaming, vacuum and manual extractions.

Detoxifying

Application of a freshly prepared herbal detox mask with warm herbal compresses, and lymph drainage around the face and neck area.

Exfoliation

Acid from natural sources (may be salicylic, glycolic, lactic, wild berry blend, ascorbic, etc.) or enzyme blend is used to exfoliate the skin. Deep polishing of the skin is also performed.

Treatment

Application of treatment serum. Over 100 different formulas are available, the most popular being caviar extract, amino acid blend, sun damage formula, marine collagen, DMAE, sulfur, and botanical extracts. A cold laser treatment is also performed for optimal firming and healing effect.

Nourishing

Ultrasonic penetration of a specially-blended warm herbal mask with phytonutrients and vitamins.

Massaging

Rejuvenating massage with Elina Natural Transdermal Bioenergized moisturizing lotion, creams for the eye and neck area, and natural sun block.
Organic Gemstone Facial
75 minutes: $90
Add Crystal-free Diamond Microdermabrasion: $20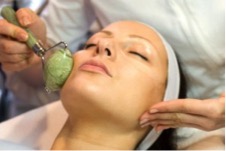 For centuries gemstone therapy has been used to enhance health and beauty. You will notice the benefits of the Organic Gemstone Facial after the first treatment. During this corrective skin care procedure your skin will receive powerful bioenergized infusions of diamonds, sapphires, emeralds, and gold. The treatment starts with deep cleansing, steaming, extractions and a gemstone peel. This is followed by the application of masks freshly prepared for the specific needs of your skin from organic plants and minerals. Finally, Elina Organics Gemstone Elixirs will be applied to your face and massaged into your skin with polished gemstones. This skin rejuvenating treatment is based on ancient Ayurvedic traditions and is beneficial for all skin types.
Crushed Amber Rejuvenating Facial
75 minutes: $90
Add Crystal-free Diamond Microdermabrasion: $20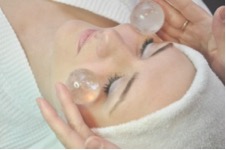 Especially beneficial for sun-damaged skin
Rejuvenating properties of Baltic Amber have been known for centuries. You will notice your skin brighter and firmer after one treatment. Crushed amber scrub enriched with succinic acid, co-enzyme Q-10, a blend of natural vitamins, soy phospholipids, and arnica is massaged into your skin and deeply penetrated with ultrasound technology. This scrub is followed by a reflexology massage performed over warm herbal compresses with an amber-firming protein mask and rejuvenating cold laser treatment. A light massage will be performed with Elina Transdermal, Bioenergized products customized for your skin. This procedure will be completed with an application of Elina Ambra-Lift bioenergetic skin elixir.
Featured in American Spa.
Warm Needle Drawing
30 minutes: $60
Anti-Wrinkle Warm Needle Drawing is a non-invasive, skin rejuvenating technique used to reduce the depth of facial wrinkles and fine lines. A warm, round-tipped needle is used electrically to stimulate targeted areas and increase the production of your own collagen. People of all ages can benefit from this treatment which also helps to reduce depressed scars.
Benefits of Warm Needle Drawing:
No synthetic fillers or injections are used.
It stimulates the production of your own collagen with no risk of infection.
You will see results after the first treatment; your skin will continue to improve after each session, which only takes 30 minutes.
Intensive Eye Rejuvenating Treatment
45 minutes: $60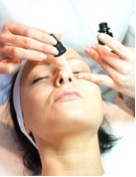 This revitalizing treatment includes ultrasonic massage and galvanic penetration of a special blend of natural vitamins and proteins to nourish and improve the appearance of the eye area.
After your treatment, you will notice your eyelids are firmed and toned, fine lines and dark circles are reduced.
Non-Invasive Facelift
75 minutes: $120
Non-invasive, yet intense, our quantum face-lifting method will visibly firm and improve the appearance of wrinkles, deep lines and provide overall tightening of the facial muscles. This multi-factorial quantum treatment improves the nutrition of the facial skin allowing correction of problem areas. It helps to reduce capillaries as well as improve problem skin. We recommend 6 once-a-week treatments for maximum results. Witness results after a single treatment!
Mini facials (lunch-time treatments) 30 min: $60
Pigment Spot Treatment for Hands
45 minutes: $50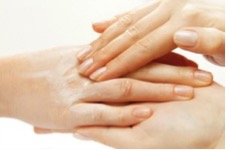 Uneven pigmentation and skin discoloration occurs as a result of over exposure to ultra-violet rays. Our Pigment Spot Treatment service will help to reduce discoloration and restore normal skin function in the damaged area. Depending on the depth of sun-damage, more than one service may be needed. This corrective treatment includes gentle cleansing with natural enzymes, diamond microdermabrasion, followed by an application of botanical lightening serum with the natural form of Vitamin C (Ascorbyl Palmitate) which is penetrated with ultra-sound and galvanic current. To finish, the area is nourished with an Elina natural, transdermal, bioenergized cream or lotion customized for your skin
You can add hand reflexology massage to your facial 20 min: $30
Or feet reflexology 30 min: $50
Waxing Services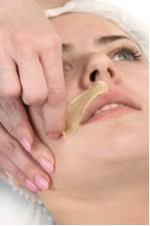 Waxing hair removal uses a resin-based wax- like product ,sugar Hair Removal or treading
| | |
| --- | --- |
| Lip or chin or sids | $15.00 |
| Brow | $17.00 |
| Nose or ears | $10.00 |
| Full Face | $50.00 |
| ½ Leg | $35.00 |
| Full Leg | $60.00 |
| Full leg +Brazilian | $90.00 |
| Full Leg + Bikini | $75.00 |
| Bikini | $35.00 |
| Brazilian | $50.00 |
| ½ Arm | $25.00 |
| Arm | $35.00 |
| Underarm | $20.00 |
| ½ Back | $25.00 |
| Back or chest | $45.00 |
| Full body wax | $130.00 |
| Tint Brow | $15.00 |
| Tint Lash | $20.00 |